Build Better Synergy with Team Building at The Anchor Activity Park
As we roll into the middle of the summer season, we are celebrating our freedom to vacation, spend time with our families and get back to the business of working and growing our work teams into mighty gladiators.
It's no secret now what we have been creating for the last year at Shangri-La Resort; our vision was to create an Activity Park where business groups and families alike could enjoy themselves 365 days a year without worrying about the Oklahoma weather.
The Anchor has not fallen short of delivering fun for all ages and groups of people. We have spared no expense in creating an atmosphere that breeds pure excitement.
This week we have our first WIFFLE Ball Tournament featuring the OKLAHOMA SERIES GAMEDAY!! It's the Eagles and Wildcats facing off at 8 PM CT for Games 1 & 2 tonight at our Mini Fenway Park, with Game 3 coming tomorrow night.
All are welcome to attend. Or you can Tune into the @MLWWiffleBall Instagram Live at 7:30 PM CT to catch some pregame action.
I remember as a kid playing WIFFLE Ball in the street, recruiting neighborhood kids, and creating makeshift bases with made-up rules. What we have today is not that.
It's surprising to think that WIFFLE Ball, a variation of baseball, would garner such a major following, but these guys have an amazing dedication to this sport. Coming to Shangri-La Resort from Michigan to experience the Mini Fenway Park and play the Oklahoma Series.
Check out their Youtube Page. It's impressive! https://www.youtube.com/mlwwiffleball.
According to Wikipedia, WIFFLE Ball is a Miniature version of baseball that has been played for decades, including stickball, improvised by children, using everything from rolled-up socks to tennis balls. The ball most commonly used in the game was invented by David N. Mullany at his home in Fairfield, Connecticut, in 1953[2] when he designed a ball that curved easily for his 12-year-old son. It was named when his son and his friends would refer to a strikeout as a "whiff."
WIFFLE Ball has been around for a while now, and it is so much fun for all ages. The ball is lighter weight, the bat is lighter weight, and there is no need to worry about not having the agility to participate. It's for everyone!
WIFFLE Ball is an excellent choice for developing your work teams. The game creates excitement, team involvement, and camaraderie, not to mention strategic thinking. Since we opened our Mini Fenway Park, people have gravitated to this area of the activity park, curious to see what it looks like and to feel the energy of being under the big lights, playing the game.
WIFFLE Ball brings out the kid in all of us, and to top off this fun activity, The Anchor Galley offers some of the best Chicago Hot Dogs this side of the Mississippi, adding to the nostalgic feeling of being at the classic "Fenway Park."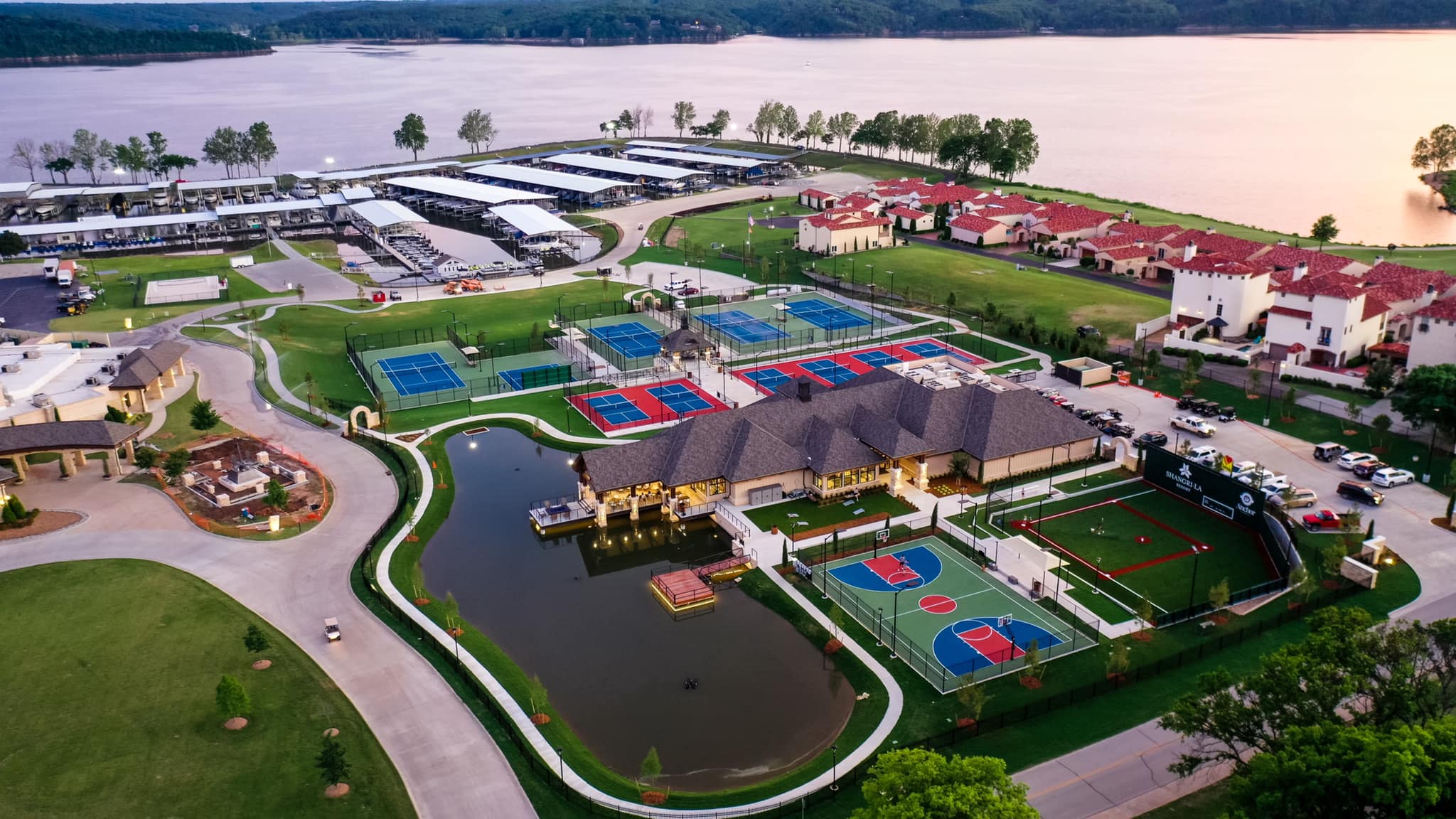 We really love this part of the Anchor, and we think your work teams will love it also. Our goal with teambuilding at The Anchor is to help you to improve leaders and develop teams. If outdoor WIFFLE Ball is not your thing, we have an array of additional activities inside The Anchor, and we invite you to come and explore Shangri-La Resort or go to shangrilaok.com to learn more. Schedule a trip to Shangri-La Resort to check us out @ dana.able@shangrilaok.com